What kind of cyclist are you?
Bicycle cover from Direct Line means you'll only pay for what you need. So, if you regularly travel abroad with your bike or prefer to stay local; buy all the latest gear to tackle a gravel trail, or ride your e-bike to the shops, we've got you covered.
Commuters and casual riders
If you cycle to work or enjoy exploring the countryside on two wheels, our bicycle cover offers peace of mind against theft or damage to your bike.
Adventurers
Whether you ride with a club, tackle remote trails, go on cycling holidays or fancy your chances on the occasional sportive, we're on it.
Competitors
If you compete for fun, tick international routes off your bucket list and buy the latest tech, find out more about our optional Racing and Events Cover.
Why get specialist bicycle insurance?
You don't have to be a serious cyclist to need bicycle insurance. Whether you ride every day or just few times a year, if your bike's worth over £250, it might be worth getting it insured. That way, you're covered if your bike's stolen or you get knocked off on your way to work.
Many people insure their bikes via their home contents insurance, but it doesn't always go far enough.
Check your home insurance to see whether it covers you for:
Accidental damage while you're out cycling or taking part in a sportive
Theft away from your home
Malicious damage
Taking your bike abroad
Reimbursement for bike hire or taxi fare if your bike breaks down away from home
Cycling accessories, including personal gear and additional wheelsets
Getting bicycle cover through Direct Line means your claim will be handled by a specialist team of keen cyclists. They understand that your bike is important to you, which is why they'll organise repairs or replacements via a trusted network of bike shops and service centres.
It's just what you need to help you get back on the road. Or up the mountain.
What you need to know:
Once you've bought your policy, you'll be asked to send proof of purchase along with photos of your bike. This helps the cycling team to process any claims you make as quickly as possible.
Any bicycle theft claim you make is subject to certain security conditions, so make sure you follow the required security measures. Your claim may be rejected or not fully paid if you don't use the correct lock for the value of your bike and store it safely and securely.
Get a quote today and you could get your bike covered straight away.
Why choose Direct Line Bicycle Cover?
It takes a fellow rider to understand just how important your wheels are. That's why the team behind Direct Line Cycling Insurance has specialist knowledge and a passion for two wheels. You'll find them out most weekends, exploring new routes, fine-tuning their gears and testing out new kit. They get it, they really do.
That's why the cycling team want to help you get back on your bike as soon as possible. Nobody likes waiting, so once you've provided all the information needed, they'll aim to resolve your claim within one working day.
With Direct Line bicycle insurance, you'll get the following cover as standard:
Accidental or malicious damage
Your bike will either be repaired, or the damaged parts will be replaced.
Theft (from your home or away)
As long as you've secured your bike with an approved lock, and followed the required security measures, your bike will be covered against theft.
Theft from a roof rack or trailer
Provided it hasn't been left unsecured or unattended (see approved locks for more information).
Reimbursement for cycle hire and transport costs
If your bike's out of action, you'll need some wheels to get around on - especially if you're training for an event. That's why you'll get up to £500 to hire a suitable replacement, or to cover your transport costs while your bike is being repaired or replaced.
Onward travel
If your bike's stolen or you've had an accident and can't cycle, you'll be reimbursed the cost of your taxi fare to get yourself and your bike home, to the nearest station or bike repair shop – whichever is closest.
Roof rack and transit cover
Your bike is covered for any damage caused while you're transporting it securely.
Multi-Bike Discount
If you've got another bike worth over £250 to insure, save money by adding it to the same policy. The more bikes you insure, the more you'll save, with 10% off your second bike and 15% off three or more bikes. The most valuable bike will be counted as the first bike on your policy, so discounts will apply to each bike thereafter. Excludes optional extras
New for old replacement
If you need to claim for a total loss of your bike due to theft or irreparable damage, we'll replace your bicycle with a comparable make/model up to your benefit limit, if you bought it new. If your bicycle is second-hand or discontinued, we'll reimburse you for its current market value, subject to depreciation.
Your cycling kit
You'll get up to £250 cover for your cycling kit, which includes accessories, clothing, helmets, GPS, additional wheelsets and your bike box. Please note, this cover is only valid as part of a larger claim for damage or theft of your bicycle. So, if your helmet is stolen from your bag, it's not covered. If it's damaged in an accident which also damaged your bike, it will be covered.
Cycling gear worth over £250
If your kit is worth more than £250, just let us know how much it's worth when you get a quote, and we'll include the extra cover in your premium. We can insure your cycling accessories up to the value of £5,000.
We cover a range of bikes, for every kind of adventure
From folding bikes to tandem bikes, and everything in between, we can cover all your cycling adventures at home and abroad – whether you're commuting through the city streets or racing up the mountains.
E-bikes
Cover your e-bike against theft or accidental damage.
Road bikes
Cover against theft or damage so you can get back on the road as quickly as possible.
Mountain bikes
Get your MTB insured so you can enjoy peace of mind every time you jump on your bike.
Cargo bikes
Cover your cargo or e-cargo bike against theft or damage with our specialist bike insurance.
Do you need any additional cover?
Cycling insurance tips, FAQs and policy documents
Take a look at the Cycling Insurance policy documents:
Need more help?
You can search our site or ask a question to our virtual assistant.
Contact Us
Claims
---
If you'd rather talk to us, just give us a call. We can help you choose the right kind of cover.
Call us
Frequently asked questions
You can insure any bike, as long as its current market value is over £250.
Home contents insurance often has limitations regarding your bike's value and the circumstances under which it's covered (usually while it's stored at your home). With Direct Line Cycling Insurance, you are covered while you're out riding, plus you can choose the cover that is right for you (Travel Cover or Race and Event Cover, for example).
If you leave your bike unattended (i.e. you leave it unsecured, more than 5 metres away), you will not be covered for accidental damage or theft. The following situations are considered 'abandonment' and are
not covered
under your cycling insurance:
Leaving your bicycle in an unlocked vehicle
Leaving your bicycle unattended in a location other than your home where it is

not

securely locked through the frame and any quick release wheels to an immovable object
Leaving your bicycle unattended in a location other than your home for longer than 18 hours,

even if secured

. This is extended to 24 hours if left at a train station or your place of permanent employment
Leaving your bicycle in the event secure zone at a triathlon or other sporting event for longer than 24 hours.
To be eligible for Direct Line cycling insurance, you must be over 18 years of age and permanently reside in the UK. Insurance cover isn't provided for:
Professional cyclists or sponsored riders – cyclists who may be remunerated to a value greater than £5,000 in a calendar year, or train and race as their main profession.
Couriers and delivery drivers – anyone who uses their bicycle to carry out their work or hires out their bicycle for others to use. Please note, this does not include commuting to your place of work.
No, cover applies if your bicycle is stolen or if you have an accident or crash whilst riding, which renders your bike unrideable and your bicycle cannot be repaired at the scene of the incident.
If you leave your bike unattended when in town, at a friend's house or when you stop for lunch, it needs to be locked to an immovable object through the frame and any quick-release wheels using an
approved lock
. Please note, if you leave your bike for longer than 18 hours (even if it is securely locked) it will be considered 'abandoned' and will not be covered for accidental damage or theft.
If your bicycle is left unattended inside a vehicle or attached to it – for instance, in a service station car park or in a town centre – it must be securely locked through the frame to a properly fixed bicycle rack with an
approved lock
, or locked in an enclosed boot that cannot be accessed by removing any partition or breaking a window, or kept inside a securely locked vehicle and locked through the frame and all quick release wheels to a secure anchor point by an approved lock; or kept inside a fully enclosed trailer which is securely locked by a closed shackle padlock or by the lockable security provisions of the trailer.
If you are going on a plane with your bike, your bicycle and/or accessories must be securely packed in appropriate transportation equipment that fully encloses and protects your bicycle and/or accessories in their entirety.
Latest articles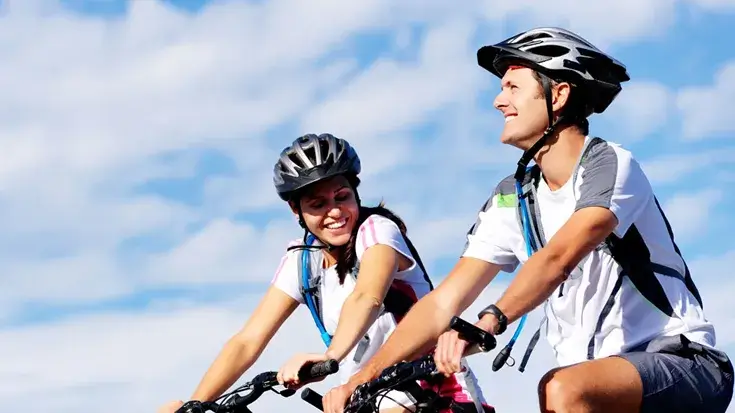 It's more important than ever to look after our mental health. Luckily, there are lots of ways to help keep yourself in a good headspace, and cycling is right up there among the best.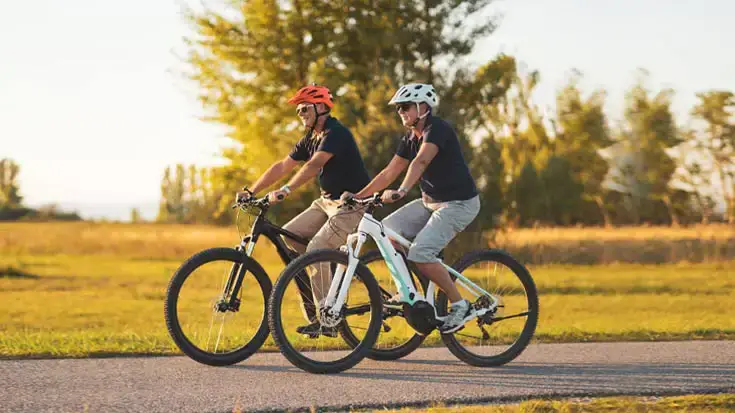 Electric bikes, have seen a huge increase in sales over the past couple of years.But what exactly is an e-bike and why are they so popular?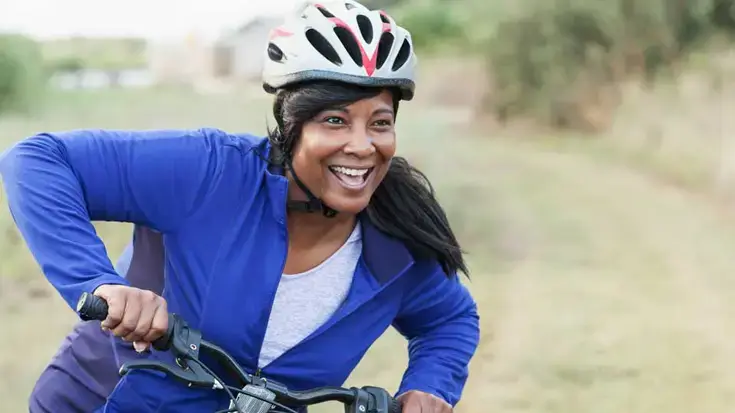 After a year without the usual distractions of a daily commute and busy social lives, the pandemic gave many of us the chance to look inward, re-evaluate our lives, prioritise our health and set new goals.