What is a cargo bike?
A cargo bike is sometimes called a carrier cycle or box bike. Basically, it's a bicycle that you can use to transport things – such as your weekly shop, your dog, or even your children.
Cargo bikes and electric cargo bikes (which come with battery powered 'pedal assist') are a popular way to get around town, as they're cheaper to run than a car, and help to reduce your carbon footprint, too.
If you fancy leaving the car at home a bit more, saving on petrol costs and getting out into the fresh air on your way to the supermarket, a cargo bike could be the bike for you.
Cargo and e-cargo bike insurance
If you use your cargo bike for running errands, getting out and about at weekends or taking your children to school, it's worth insuring it against theft or damage.
With Direct Line, you can choose from three basic cover options. Do you want to insure your cargo bike, yourself as the cyclist, or both?.
You can add optional extras such as Travel Cover or Racing and Event Cover , so you'll only ever pay for what you need, nothing more.
Bike Cover
Cover against theft, accidental or malicious damage to your cargo bike and accessories.
Cylist Cover
Public liability cover against damage or injury caused by you when you're out on your cargo bike.
Bike & Cyclist Cover
Cover against theft or damage to your cargo bike and accessories, plus public liability for you.
Why get insurance for a cargo bike?
Cargo bikes don't come cheap. And if you use yours a lot, you might struggle if it was stolen or damaged in an accident.
Getting insurance for your cargo bike will give you peace of mind that if the worst does happen, you're covered.
Direct line cycling insurance will cover your cargo bike for:
Accidental or malicious damage


If something happens while you're out cycling, you'll either get your cargo bike repaired, or the damaged parts replaced.

Theft (from your home or away)


As long as you've secured your cargo bike with an approved lock and followed the required security measures, it's covered against theft.

Theft from a trailer


Provided your bike hasn't been left unsecured or unattended (see approved locks for more information).

Transit cover


Your cargo bike is covered for damage while being transported securely.

Reimbursement for cycle hire and transport costs


If you use your cargo bike for school runs or the weekly shop, not any bicycle will do. You'll get up to £500 to hire a suitable replacement or cover for your transport costs until your own bike is repaired or replaced.

Multi-bike discount




Got another bike worth over £250? You can add it to your policy and get a 10% discount (saving applied to the lower value bike). It can be your partner's bike, a sibling's, or your child's – if they live at the same address, you can insure all your family's bikes.

Reimbursement for taxi hire




If you have an accident miles away from home, you'll be reimbursed for the cost of your taxi fare to get yourself home, or to the nearest station – whichever is closest.

New for old replacement




If you need to claim for a total loss of your cargo bike due to theft or irreparable damage, it will be replaced at the full market value, if you bought it new. If your cargo bike is second-hand or discontinued, you'll be reimbursed for its current market value, subject to depreciation.

Cargo bike accessories




You'll get up to £250 cover for your cycling gear, including accessories, clothing, helmets, GPS or other tracking devices and additional wheelsets.

Please note, this cover is only valid as part of a larger claim for damage or theft of your bike. So, if your GPS is stolen off your bike while you're grabbing a coffee, it's not covered. If it's broken in an accident which also damaged your bike, it will be covered.

Cycling gear worth over £250




If your cycling accessories are worth more than £250, just tell us their value on your application and the cost of the extra cover will be included in your premium.
Is my cargo bike covered under my home insurance?
If you've added your cargo bike to your home contents insurance, it should be covered while stored at home. However, it's worth checking your policy to find out whether it's covered while you're out and about. Does it cover you for:
Accidental damage while you're out riding
Loss or theft away from your home, including your electric cargo bike battery
Malicious damage
Taking your cargo bike abroad
Replacement cargo bike hire
Taxi fare reimbursement
Cycling accessories, including personal gear and additional wheel sets
Taking out cargo bike insurance means your claim will be handled quickly by a skilled cycling insurance team that understands how important your cargo bike is to you.
Just what you need to help you get back on the road.
Why choose Direct Line insurance for your cargo bike?
The team behind Direct Line's cycling insurance are passionate about cycling. So, when you call them up with a query, you can be sure you're talking to someone who knows just how important your wheels are to you.
They use a network of cargo bike specialists and accredited service centres to take care of your cargo or electric cargo bike. They always aim to resolve your claim within one working day, too. So, as soon as they have all the relevant information, they'll get you back on your bike (or a suitable replacement) as soon as possible.
Need personal injury or public liability cover?
It's not just your wheels that matter, make sure you're covered for accidents and injury to yourself or your family, while they're out riding with you. By adding Cyclist Cover to your policy, you could get cover for:
Public liability cover as standard
Optional personal injury cover
Optional emergency medical cover, including dental care, optical care and physiotherapy
Theft or accidental damage of your cargo bike
Theft or damage to your cycling gear
Keep your cargo bike safe
Cargo bikes are different to road bikes or mountain bikes – they're much bigger, for a start. That's why our cargo bike insurance has been created to cover your specific needs.
As with all bike insurance, you need to follow security conditions for your cargo bike, so any claim for theft doesn't get rejected because you haven't stored it correctly. For cargo and electric cargo bikes, you'll need to:
Get the right lock for your bike
It needs to be approved by Sold Secure, for any claim to be valid. We'll let you know which lock you need when you take out a policy with us.
Store your bike safely
We understand that bulky cargo bikes are harder to store in your home, so you need to make sure it's kept out of sight within your garden or outside area within the boundary of your home. All accessories should be removed before locking your cargo bike, using an approved lock, to an immovable object – through the frame and quick release wheels.
Cycling insurance tips, FAQs and policy documents
Take a look at the Cycling Insurance policy documents:
Need more help?
You can search our site or ask a question to our virtual assistant.
Contact Us
Claims
---
If you'd rather talk to us, just give us a call. We can help you choose the right kind of cover.
Call us
Frequently asked questions
An electric cargo bike (or e-cargo bike) is a cargo bike that's been fitted with 'pedal assist' to help take the strain out of carrying heavy loads or travelling up hill. This means it is powered by a battery to make peddling easier.
Yes, we cover bikes with up to 250 watts of a max output of the motor and a top speed of 15.5 miles an hour. This doesn't include bicycles fitted with internal combustion engines or other sources of power assistance. Your e-cargo bike must have been specifically manufactured as an e-bike, not a retrofitted road or mountain bike.
Your battery will only be covered if it's involved in the same incident as the bike, so if your whole bike is stolen, or you had an accident and damaged the battery as well as the bike. Unfortunately, if someone steals just your battery, it won't be covered.
If you or your passengers are injured while out and about on your cargo bike, you can claim for personal injury, if you've added personal injury cover to your cycling insurance. It's an optional extra, so it's not added to your policy automatically.
Our cycling insurance currently only covers cargo bikes that are used for recreation – carrying groceries, children or personal items for day trips. If you commute to work on your bike, that's fine, but we don't offer insurance to people using their bikes for business or commercial activities (such as deliveries), or business owners looking to insure a fleet of cargo or e-cargo bikes. However, please check back again as this may change in the future.
Home contents insurance often has limitations regarding your bike's value and the circumstances under which it's covered (usually just while it's stored at your home). With Direct Line Cycling Insurance, you can get cover for accidental damage or theft while you're out riding or away from home.
Latest articles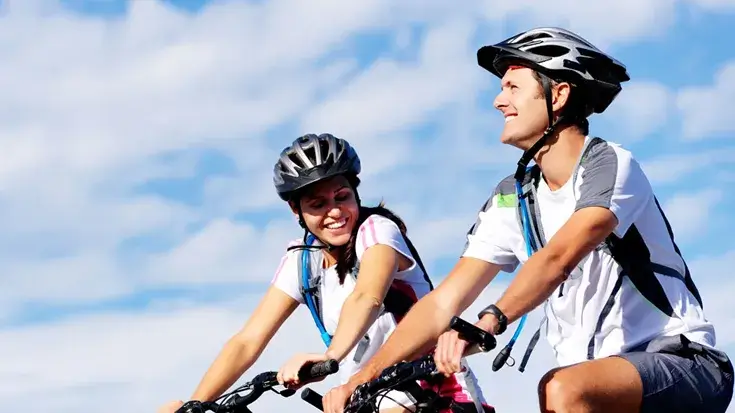 It's more important than ever to look after our mental health. Luckily, there are lots of ways to help keep yourself in a good headspace, and cycling is right up there among the best.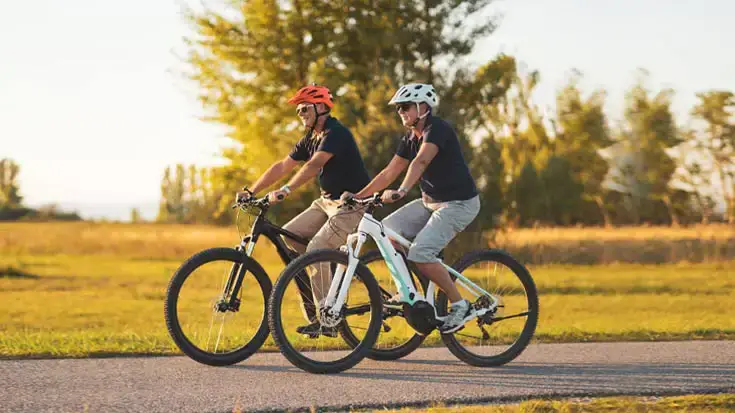 Electric bikes, have seen a huge increase in sales over the past couple of years.But what exactly is an e-bike and why are they so popular?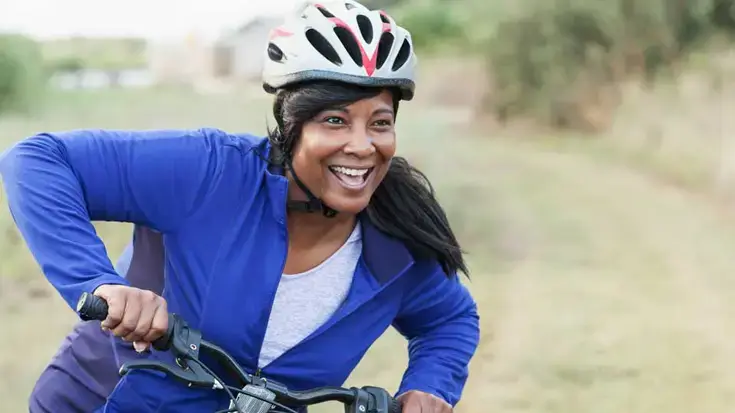 After a year without the usual distractions of a daily commute and busy social lives, the pandemic gave many of us the chance to look inward, re-evaluate our lives, prioritise our health and set new goals.