Introducing smart leak detection for your home
We're always looking for ways to help you protect your home and the things you value most. So, if you already have SELECT Premier home buildings insurance with us, we'd like to send you a free LeakBot detection device.
What is LeakBot?
LeakBot uses Thermi-QTM technology to monitor your home's water supply pipe 24-hours a day. If you have a leak, LeakBot will alert you before it causes serious damage. By spotting the leak early, you'll save on time and money, and we'll send a LeakBot engineer to find it and fix it too.
What does LeakBot do?
Monitors your water at home 24/7
LeakBot looks for leaks and burst pipes, so you don't have to.
Instantly alerts you to leaks whether you're at home or not
You'll receive a text and email as soon as a leak's detected.
Sends expert help if you need it
When a leak's detected, we'll send one of our LeakBot engineers to find it and fix it.
How do you install LeakBot?
It's quick and easy to set up with no need for tools. Just download the LeakBot app from either Google Play or the App Store, activate your account and clip LeakBot to a water pipe near your stop tap.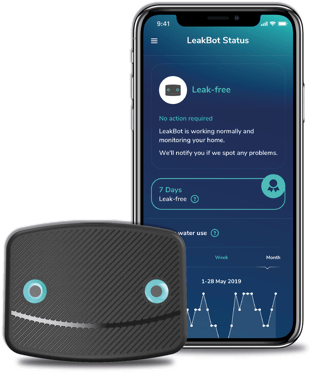 Frequently asked questions
To get started, download and install the LeakBot app from either Google Play or the App Store. Once installed, the LeakBot app will guide you through each step. If you're still not sure, watch our video on how to set up your LeakBot.
A smart water leak detector alerts you when there's a water leak in your home. LeakBot is a single device that accurately monitors your home's plumbing and requires no professional installation.
LeakBot uses Thermi-QTM technology to accurately measure both the air and pipe temperatures in your home. If there's a leak, it will continually draw colder water from the outside into your home, creating a consistent drop in temperature. LeakBot can sense the extended drop in temperature and will send you a leak alert. LeakBot doesn't monitor your central heating or any other fixed water system.
We'll send one of our LeakBot engineers to find and fix the leak. To help get it sorted, they'll use specialist leak detection equipment and the LeakBot data connected to your device.
No, leak alerts or requests for a LeakBot engineer will not affect the renewal premium of your U K Insurance policy. Your premium will only be affected if you make a claim. We'll use data received from LeakBot to understand leaks and the effectiveness of your leak detection device. SELECT Premier won't use this information to make individual underwriting or pricing decisions, and this includes decisions on your home insurance policy.
It's up to you if you fix a leak. LeakBot will continue to look for leaks, but until you get it fixed, LeakBot won't be able to detect any new leaks that may develop. If you do have a leak and choose not to fix it, it might cause serious damage to your home over time. Even though this may not affect any insurance claim you make, we recommend that you fix any leaks as soon as possible.
U K Insurance Limited will use the data provided by LeakBot to understand the effectiveness of leak detection devices, customer usage and pricing. To send a LeakBot engineer to your home, we'll collect personal data including your name, contact details and the IP addresses of the devices you use when visiting our website or using our app. To find out more about how we use your data, take a look at our privacy policy.
If you can't find the answer to your question, find out more at the LeakBot Support Centre.